Welcome to Toni's Gallery
Inspiration is never far away in the 'Stamps By Me' gallery. Here you can find Toni's work and ideas along with samples of what her crafting community have been up to. Be sure to check out Toni's blog for demo's and also her YouTube channel.
If you would like to feature your work in this gallery please send your samples to Send Mail
If you see anything you really like in the gallery you can copy and paste the 'Title' into the 'Quick Search' box at the top of the website to find out more...
Do you love informative and helpful videos? That's good because we've kept all of Toni's videos archived here so you won't miss a thing. Follow the links....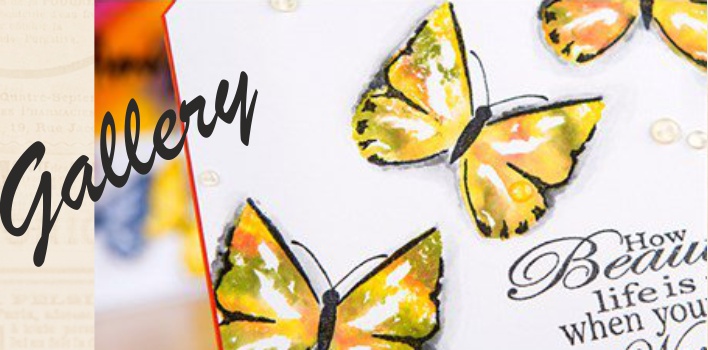 Thank you to everyone sending in samples.
WATERCOLOURING TECHNIQUES straight out of the book.
Simple and effective backgrounds
Wash backgrounds and fussy cutting
WATERCOLOURING TECHNIQUES straight out of the book.
RESIST AND COLOURING TECHNIQUES
USING A STAMPING BLOCK AND BUILDING PATTERNS
OFFSET LAYERING AND BIG SENTIMENTS
ABSTRACT BACKGROUNDS AND GLITTER SENTIMENTS
WASH TECHNIQUES AND STAMPING
BIG SENTIMENTS AND BIG COLOUR
WORKING WITH MDF AND TAGS
CREATING A DIFFERENT LOOK
CREATIVE BACKGROUNDS AND STAMPING
WATERCOLOUR PAINTING AND RELAX!
ABSTRACT BACKGROUNDS AND COLOUR THAT POPS
LAMINATION AND EMBOSSING TECHNIQUES
ARTISTIC MOUNTS AND FLORALS
LAMINATION STAMPING TECHNIQUES
WORKING WITH ARTISTIC MOUNTS
COLOURING WITH GOSSIP INKS
COLOURING THROUGH TISSUE TECHNIQUE
STAMPING AND DIE CUTTING TOGETHER
WORKING WITH PAPER WALLETS
DIMENSIONAL and MASKING techniques
AURORA BOREALIS and RESIST techniques
BACKGROUNDS AND BUILDING SCENES
MEMBERS GIFT - INTRODUCTION
LETTERS INSPIRE YOU - Thanks Set
STAMPS AND DIES - Circles of Light
STAMP AND DIE - Just the right words
STENCIL - Floral Splendour 10
STENCIL - Floral Splendour 13
STENCIL - Floral Splendour 12
STENCIL - Floral Splendour 11
UNDERSTANDING WATERCOLOUR CARDSTOCK
STENCIL - FLORAL SPLENDOUR 5
THINKING OF YOU - LIMITED BOX EDITION 1
HOME SWEET HOME stamp set
TRUE FRIEND and SENDING LOVE stamp set
CONGRATULATIONS stamp set
CHRISTMAS GREETINGS stamp set
Generation Inx - Back to Black
Stamp Lamination - Wild Bouquet
Watercolouring Techniques - Mixed Flowers
Watercolouring - With Sympathy Stamp
Watercolour resist techniques
Stamp Lamination - Wish Tree
Stamp Lamination - Amazing Daisy
Stamp Lamination - Butterfly
Wink of Stella and 'Thanks a Bunch'
Mini Album - Scrapbook and Box project demo 2
Mini Album - Scrapbook and Box Project
Mini Album - Featured papers
Graphic 45 Mini Album 'Precious Memories'
Watercolour Stamping - Camellia
Pocket Page - Tim Holtz Wallflower Mini Album